---
Check out past issues of the newsletter along with more interesting crypto content as well as short (but great) conversations with leading crypto industry participants at our newly-launched website www.satoshiand.co
---
Crypto has now been around for well over a decade. There are some clear parallels with the Dotcom boom of the 90s. We are nowhere near achieving the full potential of the decentralization revolution, just like we were nowhere near achieving full potential a few years into the 90s with the original tech boom. In both cases, 'animal spirits' and irrational exuberance were in full flow, and there was a willing suspension of disbelief, when hype preceded reality and collapsed before the real work or 'Buidl' as it is known now, started.
However, the contrasts are even more striking than the parallels. The dotcom revolution enabled instantaneous flow of information globally. The crypto revolution, however, not just enables instantaneous flow of value globally, it also enables the instantaneous creation of value.
Let us digress and explore this for a second. As someone somewhere has surely noted before, humans are likely the only species that not only fall in love, but also fall in love with the idea of falling in love. This 'zoom out' capability, the ability to abstract out and go 'meta' is probably an evolutionary edge that our brains have. In the same vein, tokenization and the crypto revolution help us ascribe 'value' to value. TCP/IP or HTTP was value; Tokenizing these, like for instance the Orchid protocol attempted to do (where the hell is Orchid btw?), and many more doubtless will in the future, is zooming out and capturing the value of value. To be more specific, there is a monetary value that can be ascribed to anything that can be described or designed or expressed using a 'smart contract' or a piece of software that can be executed in a conditional manner. There is a monetary value to any piece of code that can be instantaneously traded for a price that is more often that not, set by the market.
Coming back now to our comparison, the hype cycle this time around consisted of a number of web 2.0 constructs that were expected to be decentralized - Golem, Sia, Augur, Decred, Bloom, Numerai etc come to mind, among promising projects that might still have potential but are clearly floundering at the current moment, in areas as varied as distributed computing, prediction markets, and credit assessment.
And so this is the key difference between the dot com boom and the current crypto revolution. Between 2000 and 2003, while the 'building' was happening on top of all the infra and the plumbing that the dotcom revolution enabled, which later enabled the creation of Facebook, Google etc, there was no way to speculate on all this infra that had been created, there was no way to directly speculate on TCP/IP or on HTTP or on any of the foundational building blocks or even on the second order start up plays (Unless of course you were a VC that had access to smart teams coming out of MIT/Stanford, like Google). However, this time it is different. Because we have a way to measure the 'value' of value, tokens such as bitcoin have become established assets in their own right. Therefore, while we 'Buidl', and attempt to, for instance, modern finance through DeFi and STOs, the market also speculates, by directly trading the primitives - especially Bitcoin, as seen from the secular increase in derivative trading volumes for BTC!
Let us look at the numbers. It is well and truly impossible to ignore BTC as an asset class, irrespective of where you stand on blockchain's long term transformational potential across industries. BTC has returned a whopping 2,332,803% over the past decade. Compare that to the 189% of the S&P 500 and the 19% returns that Gold has had over the same time frame.
Source: Yahoo finance
In addition to being the best performing asset class of the decade, BTC has also been the best performing asset across four of the past five years from 2015 to 2019.
Source: Yahoo finance
Consider the Sharpe ratio of a global macro portfolio that consists of 60% S&P 500 and 40% US bonds. Adding 1% of BTC increases the Sharpe ratio, a measure of the extra unit of return for every additional unit of risk, by 10%. Adding 10% BTC to the portfolio, increases the Sharpe ratio from less than 0.8 to 1.2.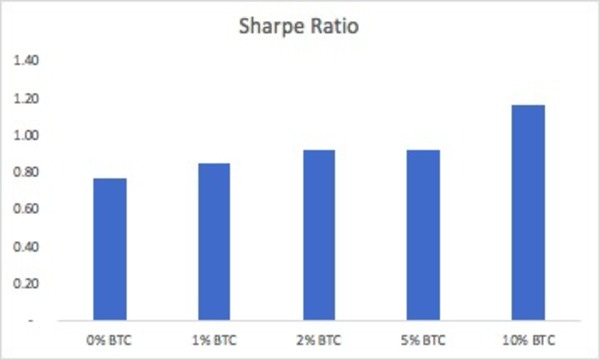 Sharpe Ratio of a global macro portfolio with BTC exposure. Source: Coinmetrics
Now study the correlation of BTC with both the equities market (S&P 500) and with Gold. Peak correlation with Gold was way back in 2016, at less than 0.2. Correlation with the S&P 500 has also been minimal. The correlation with Gold is however increasing periodically, as was evident during the recent bout of US-Iran tensions. This signals a few things - Bitcoin is clearly staking a claim to be Gold 2.0, as a hedge against inflation. More importantly, it also signals the maturing of bitcoin as an asset class. BTC assumes even more importance as a reflationary tool in an era where key central banks from China to the US are set to potentially infuse even more liquidity into the markets.
BTC price correlation with S&P 500 and Gold. Source: coinmetrics
In an era where most of the western world is facing negative yields, a liquid asset like bitcoin therefore becomes harder to ignore for any serious investor. Crypto is clearly an 'asymmetric bet' that will see increasing amounts of 'serious' money pouring in, as already evident from the speculative inflows into spot and derivative exchanges as well as to OTC players.
And it is not just institutions that should allocate to bitcoin. Sovereigns should do so as well, before it is too late, irrespective of how they plan to regulate bitcoin. Among the more offbeat ideas out there, consider this. India's foreign exchange reserves are currently estimated to be in the region of $450 billion. If the RBI, the Indian central bank, with the State's sanction, were to slowly accumulate even $1B worth of cryptocurrencies, which would be around 0.4% of the overall cryptocurrency market cap, it would likely drive up the price of bitcoin 10-fold, to around $100,000. This would be simply by virtue of the fact that a major nation state like India would now be legitimizing bitcoin as an asset class. More importantly, this $10 billion in bitcoin holdings would also take care of 10% of India's outstanding fiscal deficit for the year 2019. It would also be one-sixth of the overall defence budget outlay for the year, and would take care of almost the whole of the education budget for 2019. As outlandish as this might sound, can the RBI, as prudent asset managers and custodians of the nation's scarce reserves, afford to pass up on the opportunity to potentially wipe out a significant part of the nation's deficit. Central banks in Russia, China, and Turkey are stockpiling gold, and it will be a surprise if they are not adding to their bitcoin holdings as well in secret, as @Ryan Selkis of @Messari, a research firm, points out. In an approaching post-US Dollar world, where negative-yields are the norm, it is only prudent to allocate a small allocation of any portfolio to an asymmetric bet like crypto.
Meanwhile in Crypto Wonderland...
"Nervos Network Sets Up A $30 Million Grant Fund"
Nervos Network has set up a $30 million public grant fund to sponsor external developers building on its blockchain infrastructure. Announced Thursday, the fund will pay developers in the combination of cash and CKByte tokens, and all submitted projects will be made public to source feedback from the broader community, Nervos co-founder Kevin Wang told CoinDesk. Individuals, teams and companies can begin submitting applications for improving the firm's layer one blockchain Common Knowledge Base (CKB).
"Bill Seeking Exemption of Personal Crypto Transactions In Congress"
A bill seeking to exempt personal cryptocurrency transactions from taxation for capital gains has been reintroduced in the Congress of the United States. Called "The Virtual Currency Tax Fairness Act of 2020," the bill would establish an exemption for virtual currency expenditures that qualify as personal transactions. Users would then not have to report instances when they spent crypto whose valued had changed relative to the U.S. dollar on day-to-day expenses. Existing tax law struggles to cope with cryptocurrencies, as they sometimes behave as investments, sometimes commodities, and sometimes just like other currencies. It is to this last type of transaction that the bill looks to simplify for crypto traders and users.
"Bux Acquires Blockport"
Bux, the Amsterdam-based fintech that wants to make investing more accessible, has acquired the European "social" cryptocurrency investment platform Blockport. Terms of the deal remain undisclosed, although Bux says the move paves the way for the company to launch its own branded cryptocurrency investment app. Dubbed "BUX Crypto," it will be available in the nine countries in which Bux operates, and is planned to go live in Q1 this year. In addition, we are told the founders and core team members of Blockport will join Bux and "take ownership" of the Bux cryptocurrency offering.
"NBA Team Launches Blockchain-based App"
Many people think that cryptocurrencies only serve as an alternative payment option. While there are coins that fit this bill, there are other cryptocurrencies that can perform a host of other functions. The NBA can be considered an early adopter of crypto. In 2014, the Sacramento Kings became the first NBA franchise to accept bitcoin as payment for store products and season tickets. Four years later, the same team began mining Ethereum. Recently, Nets guard Spencer Dinwiddie tokenized his contract to get a lump sum payment and reward token holders. Now, the Kings are once again ahead of the curve in combating fake NBA merchandise.
Crypto Twitter Pick
The internet is just for gambling and porn. (1995)

People will never trust a website with their credit card. (1997)

Bitcoin is just a tool for criminals and tax evaders. (2015)

Ethereum is only good for scam coins and ponzi schemes. (2018)

All wrong in the same way.
2:16 PM - 9 Jul 2018
What We Are Reading / Listening To
Progressive Decentralization: A Playbook for Building Crypto Applications by a16z
How Blockchain is Transforming Cross-Border Payments with Michael Dunworth
Overnight Performance of Top 10 Currencies
You are getting this newsletter because you or someone in your organization signed up for this. You can find more stuff to read at our news and research portal, our crypto index token and our upcoming relayer.

Brought to you by Satoshi&Co
This newsletter does not constitute an offering of securities in any jurisdiction. The contents of this note should not be construed as investment advice or as a recommendation to purchase securities. This note is intended for the consumption of the recipient alone and not for public distribution. Please consult a certified financial advisor or other appropriate practitioner as may be appropriate as per your jurisdiction.
ZPX Copyright © 2019